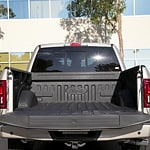 The 2020 Ford F-150 is a truck that is designed to tow anywhere from 5,000 to 8,000 pounds. It can get a maximum of 28 MPG on the highway and 21 MPG in the city. The truck has performance features that will help you get the most out of your drive.
The 2020 Ford F-150 has 10-speed automatic transmission. This feature comes with several selectable modes, which are normal, tow/haul, snow/wet, ecoselect and sport. You will have an easier time accelerating if you use this feature.
This vehicle also has 3.5L EcoBoost.
Read More