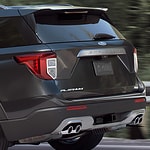 The Ford Explorer is one of the most popular SUVs on the market. It's no wonder, with its sleek design and impressive features. In this blog post, we will take a closer look at some of the features that make the Ford Explorer so popular.
Performance: The Ford Explorer is known for its excellent performance. It's powered by a V- six engine that delivers plenty of power and torque.
Safety: The Explorer is equipped with an advanced safety system that includes airbags, ABS brakes, and traction control.
Interior: The interior of the Explorer is comfortable and spacious. It features leather seats, a sunroof, and an infotainment system.
Exterior: The exterior of the Explorer is stylish and modern. It features LED headlights, chrome accents, and 20-inch alloy wheels.
As you can see, there are many reasons why the Ford Explorer is such a popular SUV.