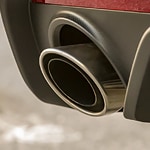 Have you ever thought about audio engineering's role in iconic vehicles? Unfortunately, this is an aspect of automotive design that few motorists take the time to understand. It will be difficult to ignore Ford's high-level audio engineering anymore, though. This is the new Active Valve Performance Exhaust technology.
How can the Active Valve Performance Exhaust tech serve your needs as a South Haven Ford enthusiast? It all comes down to sound control. There are many situations during which enjoying the thrilling roar of a modern Ford Mustang is appropriate, and the Sport setting has been put into place for exactly those moments.
Other driving circumstances, unfortunately, demand a level of stealth near silence. Thankfully, Quiet Start is another mode in the Active Valve Performance Exhaust, and it will come into play during these situations. Ask Woodhams Ford Lincoln about further Active Valve Performance Exhaust settings like Track and Normal.