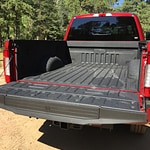 Many technologies and innovations contribute to the power that Ford Super Duty commands. Those technologies and innovations result in power features that lead the class in many categories. What power features? Our Woodhams Ford Lincoln selected two of many worth noting.
Crush Tough Trails and Rocky Roads
The Ford Super Duty Trail Control and Rock Crawl modes give you a marked advantage when navigating rugged landscapes. At the push of a button, these driver-activated features adjust the Ford Super Duty engine, transmission and drivetrain behavior for the ultimate in suspension, wheel torque and maneuverability. Once activated, you're free to focus entirely on steering while easily conquering the toughest terrain.
The Integrated Electric Winch
Move huge boulders from property or inoperable trucks from point A to point B with the Ford Super Duty Integrated Electric Winch. The first factory-installed winch of its kind, its 70 feet of synthetic, abrasion-resistant line with exceedingly high tensile strength. Mounted behind the steel bumper to maximize airflow, the winch offers 12,000 pounds of winching power.