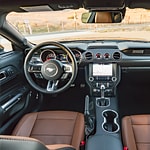 Redesigning one of the most iconic performance vehicles in automotive history is not an easy job, but the engineers at Ford managed to pay tribute to the Mustang's classic design while adding the features that today's drivers demand.
When you get behind the wheel of the new Ford Mustang, you'll feel how powerful this car is before you even start the engine. A sleek dashboard design with chrome accents and an oversized touchscreen display act as the Mustang's nerve center. Convenience features include a push-button start and a heated steering wheel.
The Ford Mustang's exterior is a nod to well-thought-out design. LED headlights automatically adapt to your surroundings, and they look stunning on the road. Drivers can choose from a number of appearance packages that offer custom color schemes and wheel options. The new Ford Mustang is also available as a convertible.