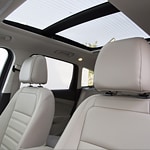 The wealth is in the technology when it comes to the Ford Escape. The advancements make safety and infotainment features useful and user-friendly. We at Woodhams Ford Lincoln assure you that the safety features are not in vain.
Some folks who drive in South Haven and the neighboring towns have vehicles with so many features that they don't know half of them. You'll know when safety technology in the Escape is present. Ford's Co-Pilot 360 bundle of safety features uses inventive technology in a practical way.
You want to take precautions wherever you drive but it sure is nice when a camera shows you a clear vision of objects in your rear. The standard Rear View Camera offers an exceptional view of objects behind your SUV. The camera will warn you if an unexpected item is in your path. The available Evasive Steering Assist feature offers steering support for you to avoid a potential collision. The system helps you maneuver around potential hazards.