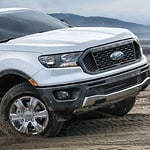 When you go on an adventure from South Haven, do you like to take toys or gear along for the trip? The Ford Ranger makes the process easier and more convenient. With its powerful engineering and durable body, this midsize pickup can handle all types of excursions.
Carrying motorbikes or camping gear? The Ranger's bed can hold up to 1,860 pounds of payload — that's the best in its class. If you want to haul heavier gear, hitch up a trailer and hit the road; the Ranger has a maximum towing capacity of 7,500 pounds, giving you plenty of freedom.
To help you transport all of your gear, the Ranger comes with a 2.3L EcoBoost engine. It's the only truck in the Ranger's class to use twin-scroll turbochargers, giving you maximum power. Step on the accelerator to unleash the power of 310 lb-ft of torque and 270 horsepower.