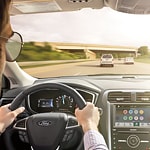 If you are searching for a vehicle to cruise down the roadway, listening to your favorite songs streaming on Bluetooth Audio while you bask in the blissfulness of the wind combing through your hair? We at Woodhams Ford Lincoln located in South Haven have 2021 Ford Fusions available to take you on that adventure.

The 2021 Ford Fusion Interior

This vehicle has an impressive inner cabin decked with cloth seats, a front stabilizer bar, a powered steering wheel, Apple CarPlay, Android Auto, an eight-inch touch screen, In-Car WiFi Bluetooth Audio Streaming. The ride comes with Forward Collision Warning, Lane Keep Assist, Active Warning Blind Spot System, and Automatic Braking.

The 2021 Ford Fusion Exterior

The automobile's polished exterior has a choice of eight-body colors, LED taillamps and halogen headlamps, 16-inch, 17-inch, or 18-inch steel or alloy wheels depending on the model with rain-sensing windshield wipers, power-folding side mirrors, and a moon roof.