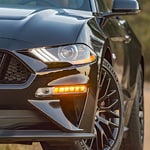 The Ford Mustang has earned its stripes as a top name in performance automobiles. Although most of the acclaim for the Mustang is aimed at its prolific V8 engines, the Mustang of today is carving out a new legacy of precision handling.
The Mustang has taken massive leaps in handling performance in recent years thanks to precision engineering and the implementation of some cutting edge tech. The fully independent suspension is now bolstered by features such as adjustable speed sensitive steering and MagnaRide advanced damping system. The speed sensitive steering system adjusts steering ratio and feedback sensitivity based on a combination of user preference and actual vehicle feedback for a crisp and controlled feel.
The MagnaRide damping system uses a magnetic shock damper that can adjust spring rates and damping coefficient electronically and nearly instantaneously. This allows the Mustang to stay planted tightly to the asphalt yet retain the ability to absorb inconsistencies in the road surface. The result is a stable and confident ride that can only be truly appreciated in person. The experts at Woodhams Ford Lincoln can show you just how impressive the new Mustang can be.