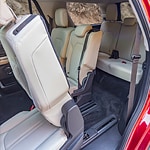 The Ford Expedition remains an impossible-to-ignore SUV on U.S. roads. The look and style do stand out, but the interior features have much to offer, as well. Many consumers purchase SUVs with passenger space and other comforts in mind. The Ford Expedition's interior traits could appeal to those buyers.
First off, cargo volume lists at a massive 36 cubic feet. Anyone interested in hauling equipment, luggage, or other cargo likely has more than enough ample space. Fold the third row of seats for more cargo space. Opting for a trim with four-wheel-drive might help move heavy cargo or towing loads around South Haven.
All the trims for the Expedition present an incredible number of cupholders. There are 15 of them. Passengers have a place for their coffee when traveling, which is a nice touch.
Getting inside the Ford Expedition reveals a great deal about the vehicle. At Woodhams Ford Lincoln, we have many models to check out and test drive.